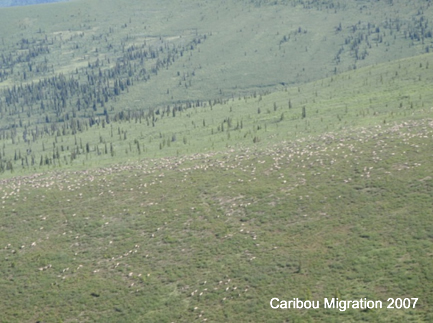 Experience the true wilds of Alaska on an unguided caribou viewing adventure, hiking with the Fortymile Mile Caribou Herd under the midnight sun. Numbering more than 50,000, the Fortymile Herd is the largest caribou herd in Interior Alaska.
With years of experience flying the historic Fortymile Country and the Yukon-Charley Preserve, 40-Mile Air can drop you right in the middle of the herd's migration. Mid-June through mid-July is the best time of year to see the most animals. With the possibility of seeing bears, moose and wolves this is a true wildlife adventure.

All trips will be customized to the groups needs. (dates, duration, etc.). All prices include transportation to and from the field, limited to 50 pounds of personal gear per person.


Multi Day Caribou Adventures - $1500.00 Per Person
Single Day Caribou Flight See - $600.00 Per Person
*
40-Mile Air offers the most affordable flight see in the state. Ride the 2 hour long mail plane to Chisana for only $105.00 per person. See the Scheduled Destinations page or contact us for more information.
We also offer flight-seeing trips of your choice.
If you have any questions please contact us for more information. (907) 883 -5191 or send us an e-mail.
* 2 person minimum
40-MILE AIR
PO Box 539
Mile 1313 Alaska Highway
Tok, Alaska 99780
Tel. (907) 883-5191
FAX (907) 883-5194

Click on the image to send us e-mail:

40-Mile Air acts only in the capacity for the participants in all matters relating to transportation and/or other related travel services and assumes no responsibility whatsoever for injury, loss or damage to person or property, however cause, in connection with any service provided. Reasonable changes in itinerary may be made where deemed advisable for the comfort and well-being of the participants. On advancement of deposit, the depositor agrees to the above terms and conditions.